Politician, entrepreneur, philanthropist, a billionaire whose bank was implicated in a mass money-laundering scheme, Ruben Vardanian has worn many hats in the 54 years of his life. His most recent, that of prime minister of the de facto government in the breakaway region of Nagorno-Karabakh, will likely count as one of the most short-lived.
After taking Armenian citizenship in June 2021, Vardanian, who is of Armenian descent, renounced his Russian citizenship a year later and announced plans to move to Nagorno-Karabakh, where he became prime minister based in the de facto capital, Stepanakert, in November 2022.
But in February, less than three months into his new role and more than two months after the start of an Azerbaijani blockade of Nagorno-Karabakh, Vardanian was dismissed from his position by the region's ethnic Armenian leader and de facto president, Arayik Harutiunian, with reports suggesting that he was seen by Azerbaijan as being too close to the Kremlin.
The billionaire, however, remains bullish. "The position of state minister was not a goal for me. But a means to achieve my goals more effectively in [Nagorno-Karabakh]," Vardanian wrote in e-mailed comments to RFE/RL following his dismissal. The state minister is second only to the president and is commonly referred to as prime minister, a position that was formally abolished in a 2017 referendum. "So, my purpose remains unchanged: to do everything to have a safe, free, dignified Armenian Artsakh," he added, using the Armenian name for the breakaway region.
Once called one of the "founding fathers" of the Russian stock market, Vardanian made his fortune in the chaotic, high-stakes world of banking after the fall of the Soviet Union.
In 1991, he co-founded Troika Dialog, an investment banking and asset-management firm headquartered in Moscow. After serving as the CEO of a major Russian insurance company, Rosgosstrakh, in 2013, Vardanian co-founded VB Partners, an investment company with assets under its management worth over $1.5 billion, which include shares in the Armenian bank, Ameriabank.
'Troika Laundromat' Scandal
Like most tycoons in the post-Soviet world, Vardanian's wealth has attracted great scrutiny.
In 2019, "Troika Laundromat," an investigation by the Organized Crime and Corruption Reporting Project (OCCRP), a global network of investigative journalists, claimed that Troika Dialog was at the center of a nearly $9 billion global money-laundering scheme, which allowed some of Russia's most influential people to secretly transfer money, evade taxes, and hide assets abroad.
While the OCCRP said that Vardanian was "Troika's president, chief executive officer, and principal partner" at the time of the alleged misdeeds, it also said there was no "definitive evidence" that he knew of the scheme. Vardanian himself dismissed some of the allegations as "pure inventions."
His perceived coziness with the Russian elite did not escape the attention of Washington.
Following Russia's full-scale invasion of Ukraine in February 2022, Vardanian was named in a draft bill in the U.S. House of Representatives as part of the so-called Putin Accountability Act, which calls for those close to the Russian president to be subjected to personal sanctions.
The move sparked speculation that Vardanian's decision to renounce his Russian citizenship was motivated by a desire to avoid possible sanctions against him.
"[If I'd wanted to evade sanctions] I could have gone to Uruguay or somewhere [else] in South America," Vardanian told RFE/RL over Zoom in January, adding that his decision to become an Armenian citizen and take a leading political role in Nagorno-Karabakh was motivated by patriotism and a desire to serve his country.
Vardanian was born in Yerevan to an architect father who hailed from western Armenia and a pianist mother, whose roots extended to Tbilisi, Georgia, and "Artsakh," he said.
By contrast, his children were born in Moscow and have visited Nagorno-Karabakh regularly with their father. "My children grew up in a different environment. They were born in Russia. My son made a voluntary choice to serve in the army in Artsakh," Vardanian said.
Mingling With The Stars
A known philanthropist who has mingled with the British royal family and Hollywood film stars, Vardanian once said that he and his wife planned to give away more than 80 percent of their wealth. Much of his philanthropic work has focused on Armenia and Nagorno-Karabakh, including the restoration of the ninth century Tatev Monastery and the prestigious UWC Dilijan College, an international boarding school set in the lush mountains of northern Armenia.
"I believe the person who has more has to give back more. If you've done many things in your life and you want to be with your people and nation, you should give back," he said. "Are you ready to support your nation, or not?"
Vardanian's support for his nation was severely tested as prime minister, with most of his brief term dominated by the blockade of the Lachin Corridor. The only land route linking Armenia to Nagorno-Karabakh has been blocked since mid-December 2022 by Azerbaijani protesters claiming to be environmental activists. Armenia has accused the protesters of acting with official Azerbaijani support, a charge the regime of President Ilham Aliyev denies.
As a result of the blockade, the citizens of the majority-ethnic-Armenian enclave have faced a humanitarian crisis, with families separated and acute shortages of food and medical supplies.
During his tenure as prime minister, Vardanian would appear live almost every day on local television, urging ethnic Armenians in Nagorno-Karabakh to stay united and resist. "There's no gas, the electricity is cut off for many hours a day," Vardanian said. "There's no fruit, vegetables, fish. No elements of a normal life. It's challenging economically and psychologically. But also, people are ready to defend our homelands."
Unable to receive medical attention, some people have died since the start of the blockade, Vardanian said, although he did not say how many. "It's a humanitarian catastrophe. The West needs to recognize that this is unacceptable. It's not important whether Artsakh is recognized as independent, it's the humiliation of 129,000 Armenians. It's wrong. The West needs to put more pressure on the Aliyev regime," he said.
Baku and Yerevan have been locked in a conflict over Nagorno-Karabakh for years. Armenian-backed separatists seized the mainly Armenian-populated region from Azerbaijan during a war in the early 1990s that killed some 30,000 people. Diplomatic efforts to settle the conflict brought little progress over the years, and the two sides fought another war in 2020 that lasted six weeks, killing around 7,000 people, before a Russian-brokered cease-fire was agreed.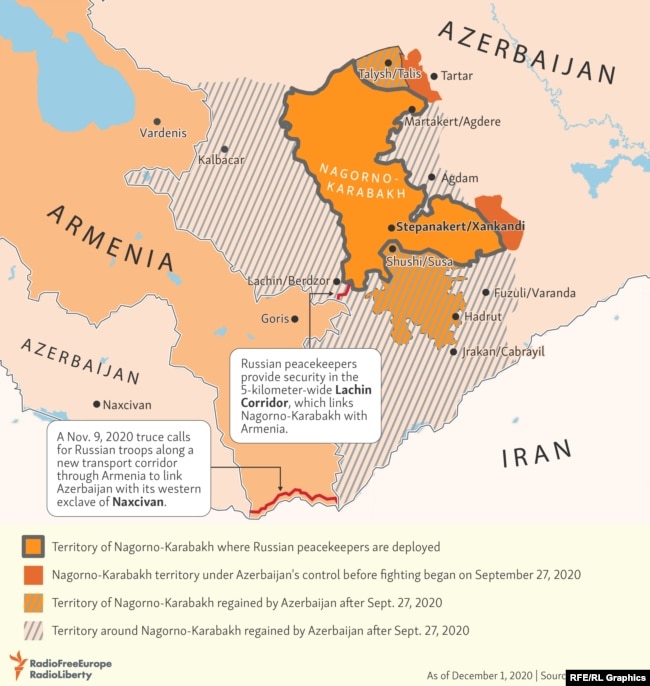 On February 23, Nagorno-Karabakh's leader, Harutiunian, announced that Vardanian was being removed from his post. Insisting that it was not the result of pressure from either Baku or Yerevan, Harutiunian credited his decision to "tactical differences" between him and Vardanian over a number of "factors," including the "interests of geopolitical actors."
"My dismissal was the decision of the president. On my side, I consider this decision to be tactically wrong, because in this situation it doesn't help [us] face the challenges. On the contrary, it weakens us," Vardanian said in e-mailed comments.
"Part of my job was everyday communication with the outside world. An international audience was being informed about the ongoing events in Artsakh, about the resilience of the people. Thus, Azerbaijan wanted to stop it. They want no one to know and speak out about their behavior towards people in Artsakh." In addition to speaking to RFE/RL, Vardanian appeared on France 24 and the BBC's flagship HARDTalk interview program in January.
Immediately after Vardanian's firing, there were reports in the Armenian media that it was due to conditions set by Azerbaijan in relation to possible peace negotiations. During a panel discussion at the Munich Security Conference in February, Azerbaijani President Aliyev alluded to Vardanian as an impediment to negotiations, saying that Baku was not willing to negotiate "with the person who was exported from Russia to have the leading position in Karabakh." Azerbaijani officials consistently and publicly took umbrage against Vardanian's appointment, accusing him of working for Russia.
"It's tempting to say that Harutiunian and the Armenian leadership bowed to Azerbaijan's pressure to fire Vardanian and to satisfy Azerbaijan's demands," said analyst Benjamin Poghosian, the founding director of the Yerevan-based Center for Political and Economic Strategic Studies.
"There were also domestic political developments in the Nagorno-Karabakh republic and small communities have their own dynamics. But 24 hours after Vardanian was fired, we know that an agreement was reached to restore the full-scale supply of gas and electricity to Nagorno-Karabakh." In recent months, gas and electricity supplies to the breakaway region have been interrupted, with ethnic Armenian authorities saying that Azerbaijan was behind the cut-offs, accusations that Baku denies.
A meeting to discuss the blockade of the Lachin Corridor between officials from Nagorno-Karabakh and Azerbaijan — the first since the blockade began in December 2022 — was confirmed as having taken place on February 24, a day after Vardanian's dismissal. Officials from both sides met again on March 1 to discuss the blockade, making it the second such meeting within a week.
Concerns In Both Baku And Yerevan
Ahmad Alili, the director of the Baku-based independent think tank, the Caucasus Policy Analysis Center, told the Caliber.az news website on February 27 that the decision to dismiss Vardanian could have been the lesser of two evils for Armenians in Karabakh.
"Of the demands put forward by Azerbaijan, Armenia chose Ruben Vardanian's [firing] in order to possibly obtain concessions in the process of installing a checkpoint on the Lachin road in the future," he said. "Yerevan has decided that after meeting Baku's second-most important demand — i.e. Vardanian's dismissal — international mediators will put pressure on Azerbaijan, saying that Yerevan is making concessions and Baku is not."
That Vardanian was considered by Azerbaijani officials to be such an important figure — and one worth removing — was likely due to their perceptions about the billionaire's Moscow ties. "Azerbaijan's overreaction to Vardanian was mistakenly perceiving him as a man on a mission directed by Putin," said Richard Giragosian, director of the Regional Studies Center, a Yerevan-based think tank.
Concerns about Vardanian, however, didn't just come from Baku, but from Yerevan as well, where some politicians saw him as an Armenian Bidzina Ivanishvili, a reference to the oligarch who has dominated Georgian politics since 2012 and who many believe to be beholden to Russia.
Speaking on February 21, pro-government parliamentary deputy Gagik Melkonian said that Vardanian was acting on the Kremlin's orders, one of which included "driving a wedge between Armenia and Karabakh."
With some Armenian and Azerbaijani criticism of Vardanian often sounding very much the same, analyst Giragosian said it was "an accidental agreement that both Pashinian and Aliyev wanted Vardanian gone."
Vardanian and Pashinian have reportedly had a thorny relationship, at least in part due to Pashinian's 2018 decision to close down a public-private investment project, the Center for Strategic Initiatives, which Vardanian had financially supported. The project was set up by Pashinian's predecessor, Karen Karapetian, to attract foreign investment into Armenia.
"I have no time to look at what Pashinian is doing," Vardanian said, when asked about the direction Armenia has taken under Pashinian, who has been prime minister since 2018. "I don't want to comment on Armenian [affairs]."
With a very small political power base in Armenia and Nagorno-Karabakh, it was perhaps little surprise that Vardanian had his work cut out for him, especially during a period of intense crisis. While Russian peacekeepers have "been trying to help us, bringing us humanitarian food," said Vardanian, the largely weak force has meant that many Armenians feel let down by supposed international assistance — not just by the peacekeepers but also the Collective Security Treaty Organization (CSTO).
Armenia is a member of the CSTO — a Russian-led Eurasian military alliance loosely similar to NATO with its principle that an attack on one is an attack on all. In September 2022, when heavy border clashes included Azerbaijan bombarding southern Armenia with artillery, the Armenian government's appeals for military backup from the CSTO were refused. "The failure in Nagorno-Karabakh of the peacekeepers and the CSTO has tainted Vardanian with a kind of skepticism," said Giragosian.
Since his dismissal, Vardanian has publicly vowed to remain working in Nagorno-Karabakh. "He is rather smart…in terms of investing in public relations and philanthropy," said Giragosian. "He is sincere. I think he genuinely believed in his mission in Nagorno-Karabakh. Whether it's patriotism or nationalism, there was a degree of sincerity."
Given the high-profile life he has led, rubbing shoulders with Russia's political elite, and given the accusations of wrongdoing levelled against him, Vardanian appears to have a thick skin. "I love criticism," he said. "It helps. I deal with it fine."
Speaking to Russian news outlet RBC in November 2021, Vardanian said he was interested in entering Armenian politics, adding that he might one day want "to be the leader of the country." With an estimated wealth of $1 billion, his dismissal as prime minister may not spell the end for his political career.
"I am a happy person. I live a full life," Vardanian said. "I have inner peace [and] one of the biggest challenges is when you're not at peace with yourself. Sometimes projects fail, but that's OK."
Source: rferl.org