A jury has spared Sayfullo Saipov the death penalty after it was unable to come to a unanimous decision Monday in the penalty phase deliberations for a Halloween 2017 terror attack in New York City that killed eight people.
The jury agreed "sentence of life imprisonment without the possibility of release is a harsh punishment," according to the verdict form. It also agreed Saipov intentionally killed his victims after "substantial planning and premeditation" and did it for ISIS. However, the jury did not unanimously find that Saipov represented a future danger or would likely commit acts of violence while in prison.
A decision for death had to be unanimous. Instead, Saipov will spend life in prison without the possibility of release at ADX in Colorado.
Saipov was convicted in January of killing eight people and trying to kill 18 more in the ISIS-inspired truck attack on a bike path adjacent to the Hudson River. It was the deadliest terror attack in New York since Sept. 11, 2001.
Nine of the 28 counts he was convicted of carry the possibility of the death penalty.
After beginning deliberations on March 8, jurors had to begin anew the following day after a distraught juror was excused after informing the court that his brother had suffered a heart attack.
The defense moved for a mistrial, invoking a strict interpretation of the federal death penalty statute that says the sentence must be put "before the jury that determined the defendant's guilt," which the judge denied. An alternate was added to the jury for final deliberations.
"There are three or four circuit courts who have considered this issue and found that courts can use an alternate even if they haven't sat in the trial phase," Judge Vernon Broderick said.
Minutes after starting their deliberations on March 8, jurors sent a note to the judge asking if they could discuss that the current method of execution for federal inmates is lethal injection. They also asked if they could mention the current moratorium on execution by Attorney General Merrick Garland.
In response, Broderick instructed jurors to disregard both lethal injection and the Biden administration's death penalty moratorium, saying they were "not proper considerations for your deliberations."
All federal executions since at least 1963 have been carried out by lethal injection.
Garland announced a moratorium on executions in September 2021 so officials could review policies and procedures though has upheld decisions of the prior administration to pursue the death penalty for Saipov, Charleston church shooter Dylann Roof and Boston Marathon bomber Dzhokhar Tsarnaev.
During closing arguments last week, Assistant U.S. Attorney Amanda Houle told the jury that Saipov deserved the death penalty for his "unremorseful slaughter of innocent civilians."
"Murder is always terrible but when the defendant made the choice to murder multiple people he exposed himself to a harsher punishment," Houle said. "He stole eight lives."
Meanwhile, defense attorney David Patton told jurors they face "an awesome responsibility and power" and should spare Saipov the death penalty and let him "die in obscurity, not as a hero, not as a martyr."
"It is not necessary to kill Sayfullo Saipov, not for our safety or anyone else's and not to do justice," Patton said. "In this case, we are asking you to decide that meeting death with more death is not the answer."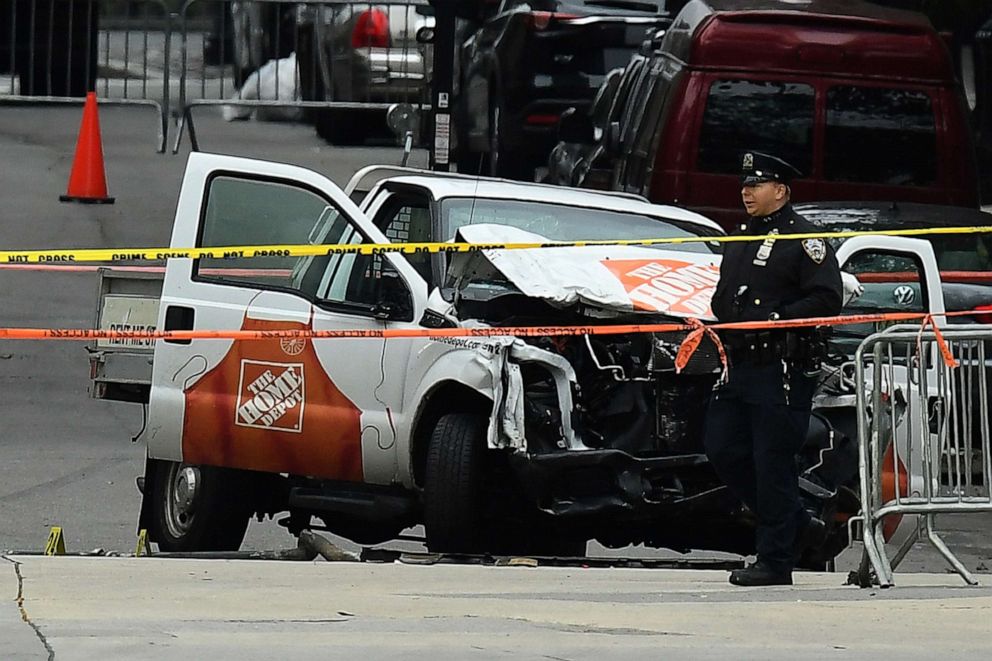 A death sentence for Saipov, a citizen of Uzbekistan, would have been the first by a federal jury in New York in decades. Federal juries in Brooklyn approved a death sentence for a man who murdered two New York police detectives in 2007 and 2013, but both sentences were tossed out on appeal.
The last time the death penalty was carried out in a New York federal case was in 1953 when husband and wife Julius and Ethel Rosenberg were executed after being convicted of conspiracy to commit espionage for the Soviet Union during the Cold War.
Source : ABC News