As villagers on both sides of the poorly defined Kyrgyz-Tajik frontier rebuild their lives and homes after violence in September that killed at least 100 people, authorities in the two Central Asian countries say they are close to finding a permanent solution to the longstanding border dispute, a legacy of their Soviet past.
Kyrgyz President Sadyr Japarov said in November — without providing many details — that he expects all border delimitations with Tajikistan to be completed by May.
Although many think it unlikely the May deadline will be met, both Kyrgyz and Tajik officials have reported "progress" and are seemingly optimistic about the ongoing efforts to finalize mutually acceptable demarcation lines.
Officials also expect all border crossings between Kyrgyzstan and Tajikistan to reopen soon after being unilaterally shut down by Bishkek in late April 2021.
The most recent meeting between working groups from Kyrgyzstan and Tajikistan took place in Bishkek on February 3-9, with more such gatherings slated to be held in the coming months.
"The most important achievement [thus far] is mutual understanding between the two sides," Orif Khojazoda, head of Tajikistan's State Committee for Land Management, said on February 15.
Khojazoda didn't give details of the meeting, citing a nondisclosure agreement until the delimitation process is finished. But he expressed confidence the border disputes will be resolved.
According to Tajik President Emomali Rahmon, 63 percent — or some 625 kilometers of the roughly 980-kilometer border between Kyrgyzstan and Tajikistan — has been demarcated so far, as the sides work to define the remaining areas.
In a phone call last month, Japarov and Rahmon vowed to settle the border conflict through a "constructive approach" and "diplomacy."
It indicates the countries have come a long way from the September violence that killed dozens and wounded hundreds more, including many civilians on both sides.
Hundreds of buildings were damaged, and tens of thousands of people — predominantly Kyrgyz — were forced from their homes. Schools, businesses, and mosques were also affected by the clashes that each side blames the other for instigating.
The September 14-17 violence marked the worst hostilities between the two countries, which have had more than 140 border-related conflicts in the past decade.
In fact, border conflicts have flared up every year since 2012, triggered mostly by disputes over water, roads, or land.
But there were also many meetings and negotiations over the years between Bishkek and Dushanbe officials to resolve the issue. All have thus far failed.
The two sides seem to have hope it will be different this time.
Shortly after the negotiations began after the September violence, Kamchybek Tashiev, head of the Kyrgyz State Committee for National Security, said the parties have taken a new and more constructive approach.
"We were unable to agree on anything before, arguing constantly. Now we have begun, little by little, to find a common language," he told local media at the time.
"We're resolving issues with Tajikistan through negotiations, like: You take this site, and we'll take this one, if you need this land, gives us that one in exchange," Tashiev explained.
More Complicated Than The Kyrgyz-Uzbek Border
It is not yet clear how close Bishkek and Dushanbe are to working out a final deal.
Kyrgyzstan reached a historic border-delimitation agreement with Uzbekistan in late November that includes a land swap and a transfer of a major water reservoir from Kyrgyzstan to Uzbekistan.
Securing a similar deal with Dushanbe won't be as easy given the history of violent clashes between Kyrgyzstan and Tajikistan, said Parviz Mullojonov, a Tajik political analyst.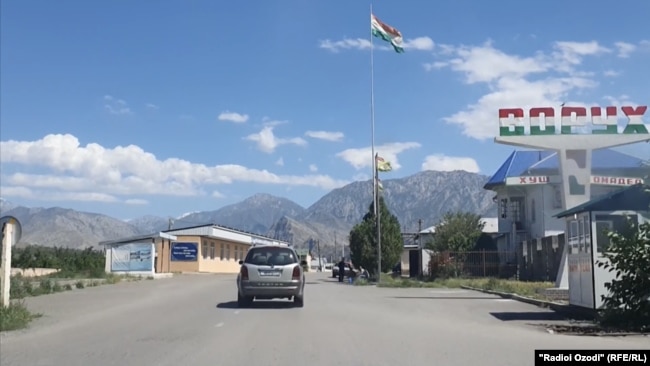 "Unlike the situation on the Tajik-Kyrgyz border areas, there aren't hot spots [between Uzbekistan and Kyrgyzstan]; that makes it considerably easier for them to negotiate with local communities," Mullojonov told RFE/RL's Tajik Service.
Mullojonov suggested that Tashkent can now play an important mediating role to help its neighbors reach a similar agreement.
Temur Umarov, a fellow at the Carnegie Endowment for International Peace, doesn't rule out that Bishkek and Dushanbe will move in a "positive direction" toward a final deal.
But he said the two governments might face pressure from their own people, especially those who live in border areas — as well as soldiers deployed there — who have been most affected by the violence, witnessing their loves ones being killed and homes and livelihoods being destroyed.
"These people want justice, these people want revenge," Umarov told RFE/RL.
Local leaders are acutely aware of their communities' anxiety.
An imam in the Kyrgyz border village of Kyzyl-Bel recently called on Kyrgyz and Tajik worshippers to visit each other's mosques to perform prayers together to help restore mutual trust.
"Until the wounds are healed, it's difficult to reestablish trust. After all, many houses and properties were burnt down, people lost family members," Abdulhamid Karimov, a resident of the Tajik village of Chorkuh, told local media.
It's hard to forgive and forget, but it's the only way to move forward, the villager said.
Source: Radio Free Europe Radio Liberty