The Flathead Valley expanded its repertoire of cuisine this summer with the emergence of a new Eastern European and Central Asian fusion restaurant.
Hungry Hun Deli, located in the Kalispell Center Mall, is operated by Chef Almaz Yussupov and his business partner Anel Tucker. The long-time friends have known each other since third grade and are bringing in a wealth of knowledge to their restaurant from their home country of Kazakhstan.
With dishes like samosas, pilaf, pho, gyros, and dumplings, Chef Yussupov incorporates a wide range of flavor profiles into the menu, and since their grand opening in August, the restaurant is visited by many regular customers according to Tucker.
"We just started, and so far it's been so good," she said. "Sometimes you get frustrated because you're tired, but at the end of the day, when you see the happy faces of your customers, it just warms your heart and we appreciate them so much."
Yussupov's love of cooking was born out of necessity as he spent most of his youth under Soviet control. Both of his parents were required by law to work, and spent long hours away from home.
"Under the Soviet Union it was illegal to not be working, so my parents couldn't stay at home. If you stayed home, you would go to prison. Sometimes my mom would call me and ask if I could make something for dinner," said Yussupov. "I was 6 and already cooking for my whole family, not every day, of course, but at least two times a week I did it."
Though Kazakhstan is now a democratic country holding elections, the former president, Nursultan Nazarbayev, had been in power for 33 years, and strikes and protests plague the country. In 2019, Yussupov moved to the United States seeking asylum from the political turmoil of his home country during which time his restaurant was taken from him. Even still, the landscape is turbulent, and starting a business is nearly impossible, explained Tucker.
"It's hard to do business there," said Tucker. "You get used to it, but the corruption is pretty bad. You have to go through all these levels to get permission to start a business and it's very harsh."
"The government wants to control everything, every penny that you have," Yussupov added. "You have to give a record of your menu and tell them how many grams of food you are using for each dish."
Tucker, a former lawyer in Kazakhstan, moved to the United States for her son's education and eventually met her husband in the Flathead Valley. Though this is Tucker's first time in the restaurant industry, Yussupov's over 22 years of experience is helping her find her way. The friends continue to find creative ideas for the restaurant, such as brunch Saturday, fish Fridays, or making tea from scratch.
"At first I thought, American people don't like drinking tea, so I wasn't sure if it was going to be a good idea," Tucker said with a laugh. "But Almaz said, 'Let's try,' so we gave it a shot and it worked. We even have a regular customer that orders this tea with creamer all the time."
The menu for brunch Saturdays changes and allows the team to test out new menu items. Recently, the brunch included a turkey and yam dumpling that Tucker said was a huge hit. Fish Fridays feature unique dishes such as a salmon and peas dumpling and a bosphorus balik which is essentially a sandwich loaded with walleye and pickled beets.
Traditionally, Kazakhstani food is seasoned with only salt and black pepper which allows the natural flavors of the meat, vegetables, or other ingredients to shine through. But because Yussupov makes dishes from other nations such as Turkey and Pakistan, he does incorporate a variety of spices such as paprika, cumin, or red chili flakes.
"Nothing is deep fried. It's all boiled, steamed, or grilled," said Yussupov. "And everything we make here, we make from scratch. We make the dough, we cut the meat, we don't buy any ready to go sauces, we chop all the veggies. It's all handmade. It's the only way you can control the quality and taste."
Though Hungry Hun Deli is in its infancy, Yussupov has dreams of opening another Kazakhstani restaurant which will allow him to expand his menu.
"We still have lots of Kazakhstani dishes that we could consider, but they're impossible to make in this kitchen. So in the future, we have a plan to open a restaurant that will be a kebab house and where we can offer other drinks."
Hungry Hun Deli is located in the Kalispell Center Mall at 20 N Main Street and offers DoorDash delivery. They can be reached by phone 406-250-1128 or through their Instagram page @HungryHun.Kalispell.
Reporter Summer Zalesky may be reached at szalesky@dailyinterlake.com.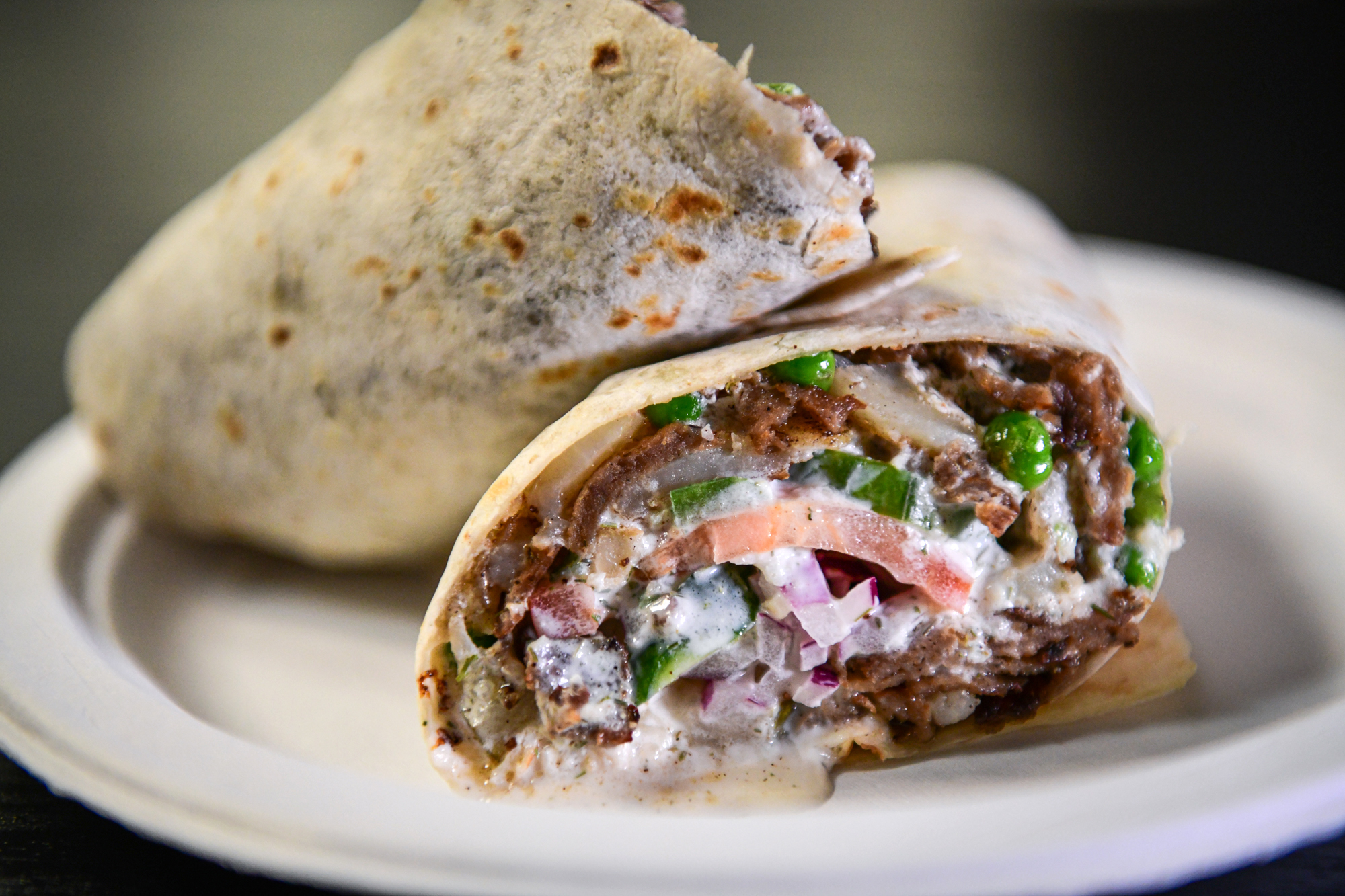 The Turkish Gyro Roll at Hungry Hun Deli at the Kalispell Center Mall on Friday, Oct. 20. (Casey Kreider/Daily Inter Lake)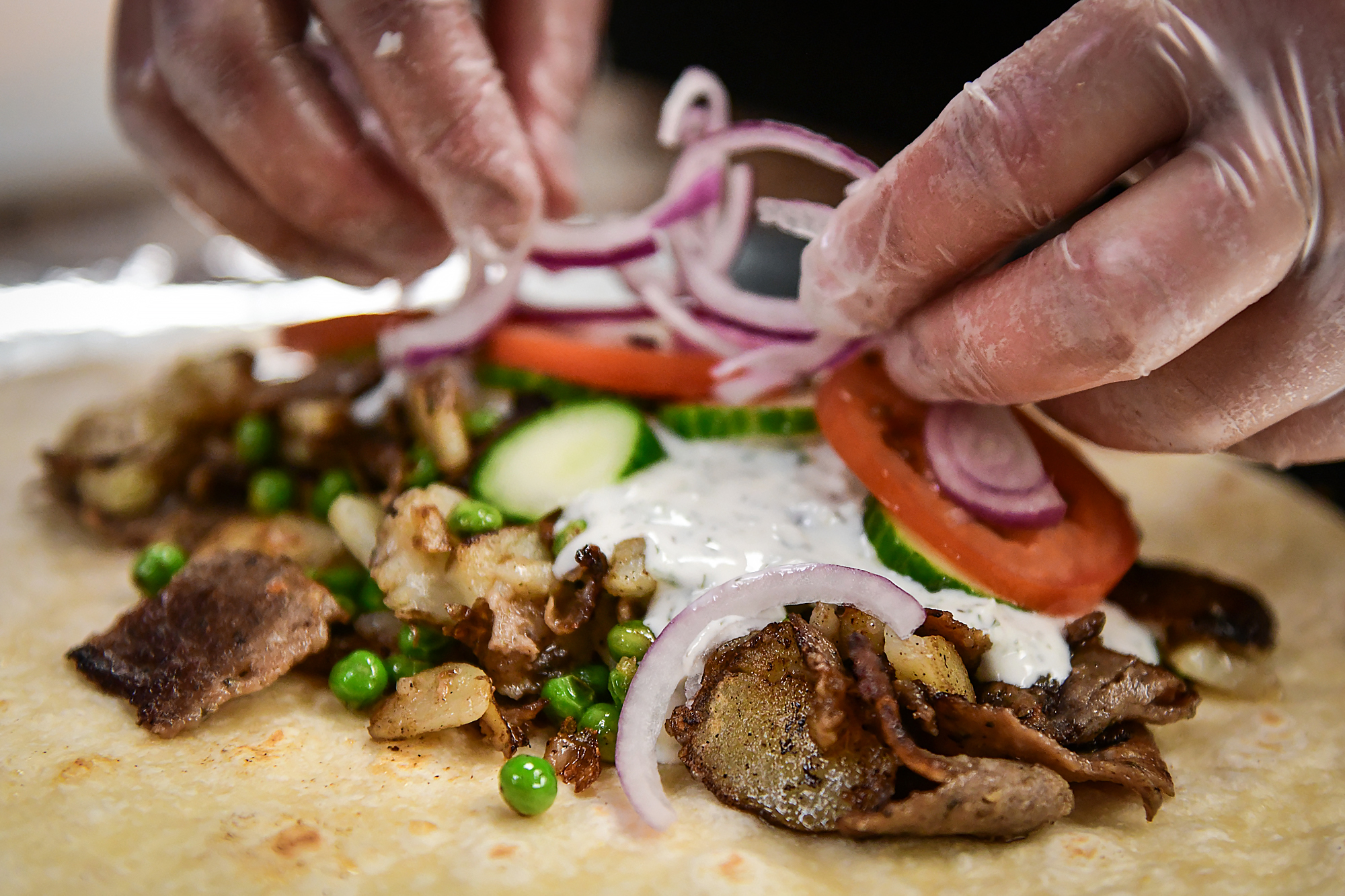 Chef Almaz Yussupov assembles his Turkish Gyro Roll at Hungry Hun Deli at the Kalispell Center Mall on Friday, Oct. 20. (Casey Kreider/Daily Inter Lake)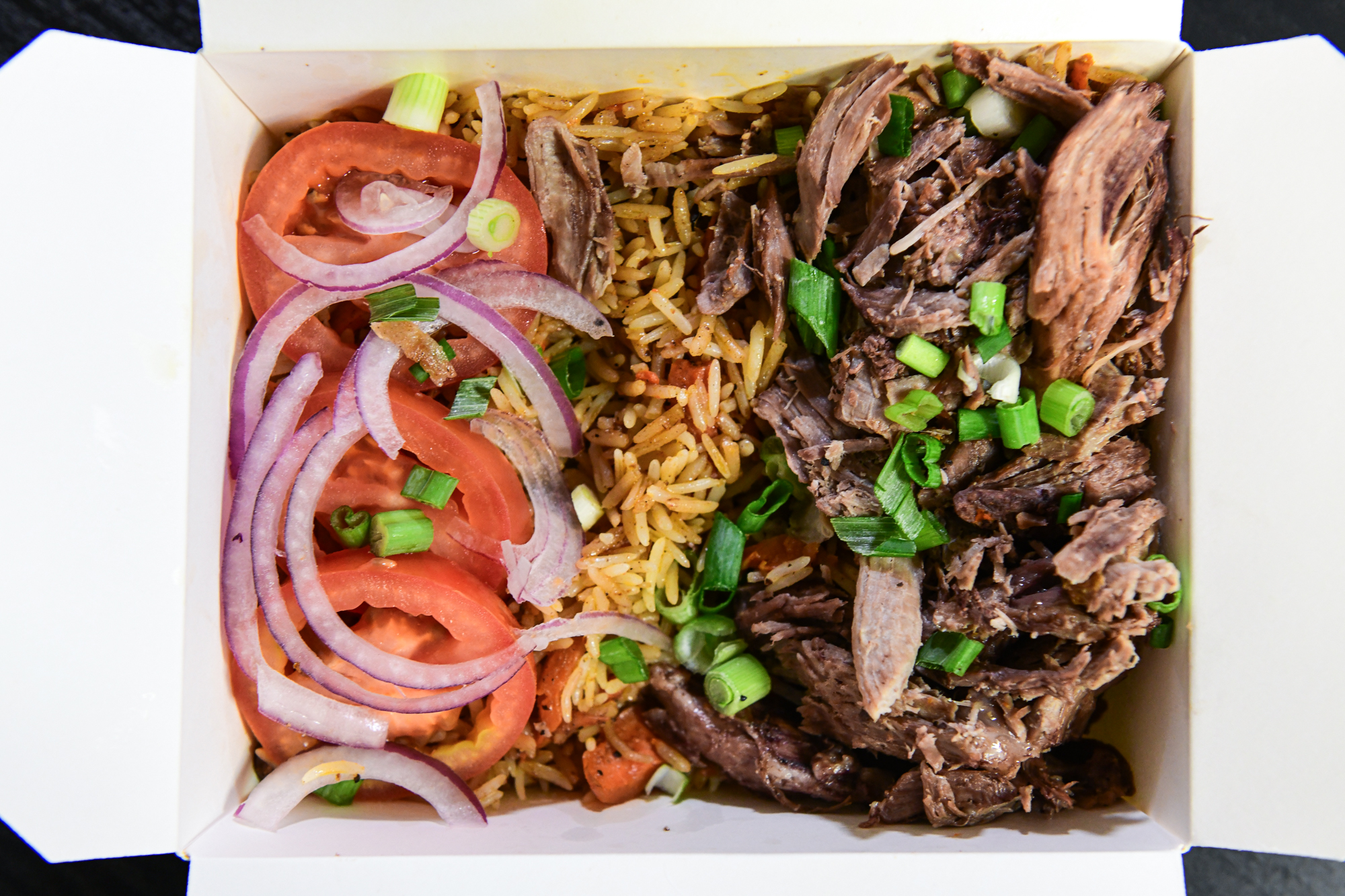 The Uzbek Pilaf at Hungry Hun Deli at the Kalispell Center Mall on Friday, Oct. 20. (Casey Kreider/Daily Inter Lake)

  The Turkish Gyro Roll at Hungry Hun at the Kalispell Center Mall on Friday, Oct. 20. (Casey Kreider/Daily Inter Lake)
 Source : Dailyinterlake